You guys might hate me after this post.
I'm really picky about which press trips I will accept, and I probably turn down at least 75% of the invitations I get for one reason or another. When I was contacted by Aria Resort and Casino in Las Vegas though, I immediately accepted, not just because I was starting to get a bit stir-crazy in Seattle, but because I knew that if there is one thing you can do in Vegas (besides gambling that is), it is eat. Eat very, very, well. And even though I may never be a food blogger, I will never pass up a chance to eat good food and write about it.
Aria did not disappoint. The resort has no less than 15 amazing restaurants, each with a different concept. During my weekend in Vegas I ate at five of them, plus one at the neighboring Mandarin Oriental.
In case you are wonder, yes, I feel like a whale this week. It was worth it though, so worth it. Let me share some of the highlights with you:
Julian Serrano
This Spanish tapas restaurant was a group favorite- it was so bright, vibrant and tasty! I don't usually care for tapas but the sheer variety of tasty food that came to our table was mind boggling.
Twist (at the Mandarin Oriental)
The Mandarin Oriental hotel is right next door to the Aria. Their premier restaurant is Twist by Pierre Gagnaire. The restaurant, which has recently received the Forbes Five Stars Award sits on the 34th floor and overlooks the dazzling lights of the Vegas strip. The food is contemporary french, ie, fancy.
Jean Philippe Patisserie
This is the playground of Jean Philippe Maury, Executive Pastry Chef at ARIA Resort & Casino. It's basically a mini Willy Wonkaland, with enormous chocolate sculptures and all sorts of delicious chocolate concoctions.
Sage
This restaurant, by Chicago chef Shaun McClain, is all about sustainable, seasonal American food.
Personally I will always remember Sage for one thing: the Foie Gras Custard Brulee.  It sounds weird, and it is. Creamy foie gras with a crunch crust smeared on a salted brioche. Rich, insanely artery clogging and unforgettable.
Jean Georges Steakhouse
I don't know if Jean Georges is actually the most popular restaurant at Aria but it was certainly the staff favorite. Whenever we mentioned we were headed there people just kind of sighed, with a hungry look in their eyes. It is definitely a world class restaurant, with a cool cow-inspired decor. It wasn't stuffy or pretentious like it could have been: just really good quality food, well prepared. They also had really neat plates.
Five50
I'm not sure if I should be embarrassed of proud that after eating three different preparations of foie gras and three different expensive steak dinners in the course of 48 hours, my favorite restaurant was the pizza place. All of that fancy stuff is terrific and all but pizza you guys.
Five50 is also produced by Shaun McClain, who does Sage, but it's an entirely different world. A world of gourmet pizza (truffle pie!), amazing salads and toasted marshmallow milkshakes. Plus there is a mozzarella bar.  I want to live in that world.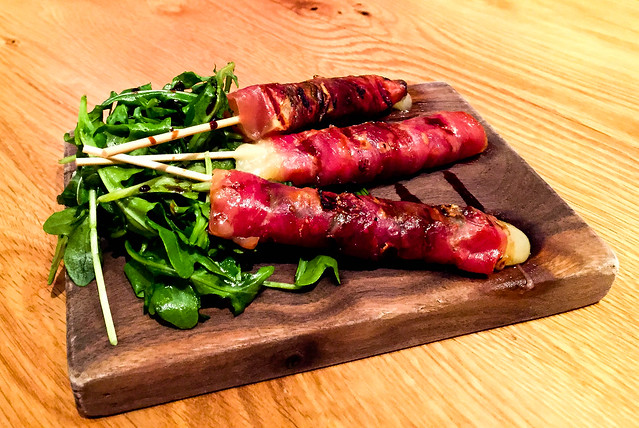 After three full days of eating multi-course feasts I was stuffed beyond beleif. Do you think "What Happens in Vegas, Stays in Vegas" applies to calories?
My trip, and all this glorious food, were sponsored by the Aria Resort and Casino. All gluttonous opinions are my own.